ocean freight
World Class Shipping specializes in providing expert international oceanfreight forwarding services to companies large and small. We are an integral part of our clients export departments, offering custom tailored ocean/sea freight logistics solutions for a wide variety of cargo. We offer all types of containerized shipping, from less than container loads to 20', 40' and refrigerated containers. Our ocean shipping experts are available to provide you with fast quotes to all destinations across the glove, no place is off limits to Jomry Nigeria Limited!
Our staff is known for it's extensive experience in handling all facets of ocean cargo logistics operations. Jomry Nigeria Limited is a leading project cargo specialist, often handling extremely difficult and large scale freight to remote destinations. From imports to the Nigeria to exports acorss the globe, experience the finest, most personalized logistics solution in the world with World Class Shipping ocean freight logistics.
Your cargo is safe with us
Jomry Nigeria Limited handles your cargo like no other international shipping company. Our streamlined and highly personalized process offers freedom of choice for importers and exporters who access a large network of ocean cargo carrier's worldide. Our close relationship and pricing with each carrier offers you a myriad of shipping options to choose from.
What makes us the best choice
Domestic and international Freight
Worldwide Consolidation
Trucking & Warehousing
LCL (Less than Container Load) and FCL (Full Container Load)
Warehousing and Freight Insurance
Logistics Consulting, Carnet Shipments and Export License Processing
Worldwide Ocean Transport
We make the world smaller by acting as your liaison to international business on a global scale. Our expertise taking action across the globe is unsurpassed. Trust us your freight forwarder of choice for global air freight!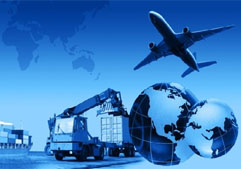 Jomry Nigeria Limited coordinates and handles ocean freight projects of all sizes for a variety of companies and organizations. From military to humanitarian relief to large scale corporate moves, Jomry has the expertise to make it happen.
With respect to the value of the goods, about 23 per cent of world trade is between countries with a common border. This percentage has remained fairly constant over recent decades. Between continents, however, it differs a great deal depending on their level of development. In Europe and North America the proportion is the highest at 25 to 35 per cent. This trade is predominantly transacted by road and rail.
Cargo between countries without a common border is carried mainly by sea, although increasing quantities of manufactured goods are being forwarded by air. Growth rates for air freight are more than double those for shipping in recent years. Which mode of transport depends on the (relative) transportation costs and the value-to-weight ratio of the goods – the higher the value per unit of weight, the less significant the cost of transportation. Punctuality and reliability are considered more important for valuable commodities.